Client Newsletters
Here you can view the archive editions of our quarterly 'Business Accelerator Magazine'. Should you want to subscribe to our quarterly newsletter service you can do so from the section at the foot of this page. The Business Accelerator Magazine contains tips and ideas to help you get your business off to a flying start or grow your existing business.
Our Latest Newsletter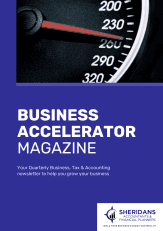 2022 December
PREVIOUS NEWSLETTERS


*The financial planning advice in these newsletters is general advice only and does not consider your particular circumstances. You should seek advice from Sheridans Accountants & Financial Planners who can consider if the general advice is right for you. Sheridans Accountants & Financial Planners Pty Ltd is an Authorised Representative of Sheridans Financial Services Pty Ltd (AFSL 452448).