Grow Your Sales & Profits and Pay Less Tax
Why Owner-Managed Business STOP Growing & What You Can Do About It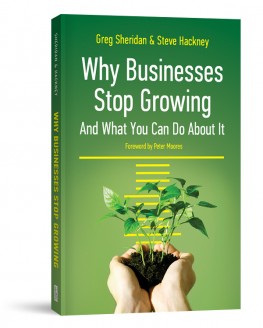 Written by Greg Sheridan, director at Sheridans and Steve Hackney, one of the world's leading marketing
and business growth experts, the book focuses on 3 rarely discussed sections….

1. Section 1: Why Businesses Stop Growing – a unique insight into the factors that contribute to the
slowing down of growth of many owner-managed businesses.

2. Section 2: How To Grow – a time tested and proven blueprint to rapidly grow your business.

3. Section 3: How To Financially Manage Your Business – with growth comes growing pains. This final
section looks at proven ways to financially manage the growth of your business, with particular
attention on cash-flow and profitability.

You'll find the book an invaluable aid both to your growth and the financial challenges every business faces during its lifetime.
"It is one of the best business books that I have read, and I have read a lot. Thank you and would you mind if I used some of your content within our organisation. Thanks again."

Alan Dean, General Manager, Sportzing Australia


To get your FREE copy of the book simply click on the link.

If you would like to discuss how you can use the marketing and finance tips in the book to grow your
business please contact us.